---

Welcome to Royal Deeside and The McEwan Gallery

Early autumn at Glengarden

The McEwan Gallery is an established family business, located in the Scottish Highlands, specialising in fine Scottish and European paintings from the 17th century to the present day, in an eclectic range of subjects from wildlife to portraits to landscapes to portrait miniatures.

Open all year round - though best to ring from January to March - the Gallery displays constantly changing stock - oils, watercolours, prints - including a wide selection of contemporary and affordable works, together with a select range of sculptures and contemporary ceramics.

Founded by Harvard academic, the late Dr Peter McEwan* and his late wife, Dorothy, the Gallery has built up a solid reputation from its 50 years' experience, evidenced by its established and loyal client base both at home and overseas. Today, the Gallery is run by their son, Rhod McEwan, who joined the business after studying history of art at university and training at Christie's auctioneers in London's West End.

The Gallery is constantly searching for the unusual, the undiscovered and in particular lost portraits of the 18th century. We are happy to offer advice on all aspects of collecting and also to provide valuations for insurance and probate. We are also happy to sell paintings on a commission basis.

The Gallery is situated in the family's artist-built Swiss-style home which gives clients a unique opportunity to see paintings in a home environment, at the same time affording a relaxed atmosphere in which to view and discuss the pictures.
But cosy inside
full of teasures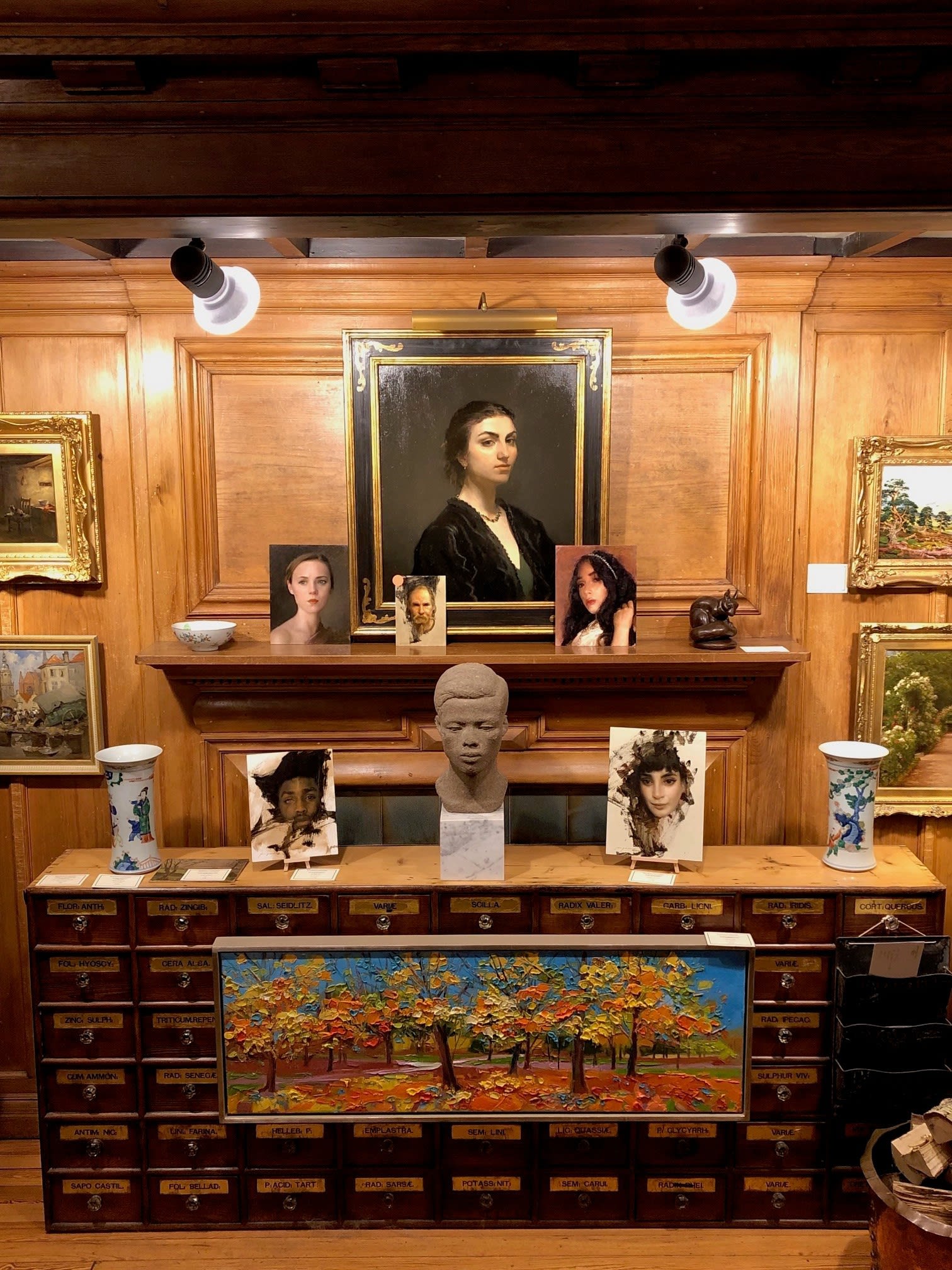 and homely space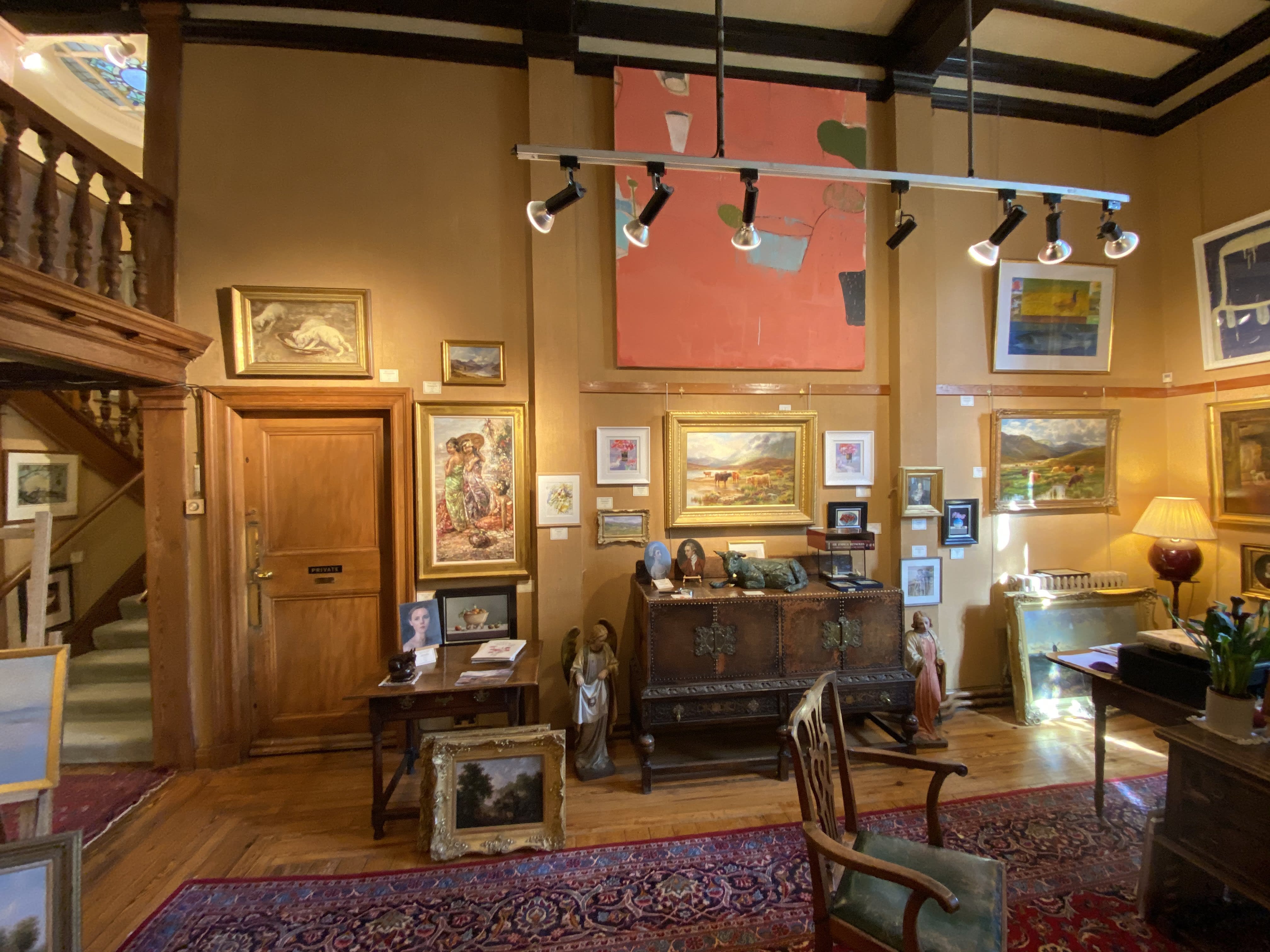 Come and meet the family...
Our Founder
TRIBUTE
Spoken by Malcolm McEwan
The greatest tribute we can give Dorothy is that she showed the same qualities to all of us. These crossed all boundaries and I hope what I say will resonate with you as we remember what a special person she was.
Dorothy was one of five children and was a daughter of the Manse in rural Dumfriesshire. She became Head girl at Dumfries Academy where she won many academic and singing prizes, and was the long jump champion. She went on to Edinburgh University to study languages, becoming fluent in French and German.
There she continued to pursue her lifelong love of dancing, attending all the tea dances going and turning a few heads in the process. One of these was Peter, who was the love of her life, and later became her husband for almost 64 years. They first met on the Committee organising Charities Week.
In 1945, after the end of WW2, Dorothy travelled on the first train to Prague as a delegate to an international student conference to examine how to re-build relationships within Europe. She saw many sad sights, including an extermination camp, along the way. Subsequently, after training at Bletchley Park, she worked in Hanover and Berlin as a Youth Officer with the British Control Commission.
In 1949, after her return, she and Peter were married by her father in the church she grew up in.
For the next seven years or so they lived in London and Fort Augustus where Dorothy was a Research Assistant and Farmer's wife respectively, except for a brief period in Caithness and Sutherland where she accompanied Peter on his 1951 general election campaign.
Whilst on the farm she developed her skills to include weaving, driving a tractor, mucking out, and delivering piglets. She used to guffaw at the memory of her mother's face when Peter turned up at the manse one day in his old RAF van with a pregnant pedigree sow in the front and Dorothy in the back. And he was a non-believer too!
They sold the farm in 1956 and moved to Ballater where there has been a base ever since. It was mainly a second home until 1974 as they spent periods in
Rhodesia, New York State, Boston Mass, and Sussex.
Dorothy's lifelong interest in antiques and paintings first chrystalised into a business in 1964, when she opened The Snuff Box in Braemar. Subsequently she successfully ran Balmoral Antiques in the heart of Boston's bustling antiqueland and regarded this as one of her biggest achievements. As she was leaving to return to the UK, she was chuffed when one hard-nosed American dealer, speaking for the others, said "Congratulations, you know you could have fallen flat on your face". It was from that shop that she provided props for the film "The Thomas Crown Affair" with Steve McQueen and Faye Dunnaway.
After that she opened a graphic arts business in Sussex, then The McEwan Gallery in Braemar.
In 1975, the current McEwan Gallery opened with Dorothy at the helm and she literally put it on the map. During the subsequent 43 years, she also regularly took paintings to antique fairs, game fairs, and special events such as an annual 3-week winter exhibition in Toronto. At these, she was often called upon to be on the vetting committees. As well as trading in old paintings, Dorothy was always enthusiastically promoting modern artists and sculptors. Her achievement in becoming a successful international art dealer, operating in what has largely been a man's world, can never be over-stated.
Dorothy radiated kindliness, warmth and a great sense of humour, often at her own expense. She was very self-effacing and genuinely thought of others before herself. In a drawer, she kept a number of notes. One of them was entitled "Things you can learn from a dog." She clearly learned at least two of those –
Be loyal – never pretend to be something you're not, and
When someone is having a bad day, be silent, sit close and nuzzle. She was a good listener.
She was a sensitive person who felt deeply. She was a good judge of character, and had an uncanny ability to see through pretence.
She had a strong core. She survived much physical hardship and illness over many years and, after her beloved husband died in 2013, she was steadfastly resilient in moving forward with dignity and purpose. She was very uncomplaining. She was also well able to point out, in a quiet but direct way, if she was unhappy with anything you did or had not done. You always knew where you stood.
She was a risk-taker. It was a risk setting up each of her antique shops and Picture Galleries. It was a risk taking a young family to live in the central African bush in 1959 and it was a risk in 1984 buying a Gainsborough painting which everyone else in the art world said was wrong, but is now fully verified and hanging in Gainsborough's House Museum. In typical fashion, she said her greatest regrets were things she didn't do rather than things she did.
Dorothy would never create a drama where none was necessary and appeared to carry out her work effortlessly. She was not one to over-complicate things. She excelled at almost anything she turned her hand to, although this sometimes went under the radar. She was an accomplished artist, particularly of African children, and one of her portraits was accepted by the then Rhodesian National Gallery. Another was purchased by the Ghanaian Ambassador in London. Dorothy was also a good violinist, playing in several community orchestras and quartets. She had a great eye for, and appreciation of, beautiful things, particularly in nature and the Arts and her enthusiasm was infectious. She liked nothing better than helping people find paintings, ceramics, or sculptures they really liked, and it was this genuine love for what she was doing that so endeared her to people.
Whilst Rhod has been a partner in the Gallery for a long time, he has been running it for the past two years . Nevertheless, it will not surprise you to know that, until early December, Dorothy was also regularly trawling the auction catalogues and helping to place telephone bids.
She used to say that the advice she would give to anyone starting in the trade would be "to pursue knowledge tirelessly, remain unequivocally honest, and master a speciality." She herself did all those things.
In her younger days Dorothy made an attempt at reaching the Olympic long jump qualifying distance and played alongside Peter in the Ballater Tennis Team. She was also an epée fencer. In later years, she greatly enjoyed her bridge evenings.
Dorothy always exuded elegance and grace. Her alternative career choice would have been as a dancer, and her dream object was a room full of Degas ballerina sculptures. Only a few months ago as she was sitting in a café with her sons when an unknown lady approached her to say how beautiful she looked, with such a wonderful complexion.
Even though to the rest of us Dorothy retained an ethereal beauty, over the last two years she increasingly withdrew from public life as she didn't wish to be remembered for what she described as a "crumbly". However, if the hairdresser had visited, she did appear on the balcony occasionally to wave hello to a special friend or, more usually, to check that the gallery lights were on, the floor hoovered, and the paintings artistically hung. And, of course, when she sat elegantly at her desk during the annual exhibitions, she defied her age and frailty.
Although a very private person, with a strong moral compass, Dorothy was extremely caring and was always trying to help others with their problems. She worried for the world and kept so up to date with a variety of topics that she could equally talk to Stuart, Leila and Andy about modern music trends as talk with Feona about the business world, or play with four year-old Archie on her iPad.
Dorothy did have faults. Although she had angel's wings, she also had human feet. She ate too much salt and chocolate, she told her sons when they needed to take off weight, and she never let anyone put a milk carton on the table. It had to be a jug. She liked an annual flutter on the Grand National and an occasional one on the National Lottery. But she didn't have many, if any, enemies and not many of us can say that. As someone recently said "how could you not like her."
She was part of a strong team with Peter and, as a good friend has written "Theywere quite a pair – dynamic, interesting, knowledgeable and interested."
They certainly both packed a lot into their lives and on one famous occasion she travelled to Scotland by Sleeper with 34 paintings, dispersed under the bed, on the racks, in the luggage van and on one of the bunks. They certainly had fun.
Dorothy was an absolute trooper. She was a constant star that we followed and protected. She was never a quitter and she instilled that ethos in her children and her grandchildren. She never fully appreciated her own value and always shunned the limelight. But she wanted the best for everyone and was always encouraging of this.
She exuded kindliness, charm, integrity, intelligence and a genuine interest. She was very gracious and compassionate, and had a great smile. She enjoyed a full life and was very successful. She was dependable, trustworthy and always fair. In the words of one of her admirers "she was one of the most lovely, well-balanced people one could ever meet."
Dorothy was proud of her children and they of her. She had soul. Her family loved her dearly and had so many great laughs. They are what we must remember most of all.